Ecologica Montenegrina (ISSN 2336-9744) is an international peer-reviewed Open Access journal.  The papers are in the fields of taxonomy, faunistics and floristics, biogeography and ecology.
We are indexed in Scopus, DOAJ, Zoological Record and BIOSIS Previews.
CiteScore 2017 0.56
SJR 2017 0.292
SNIP 2017 0.542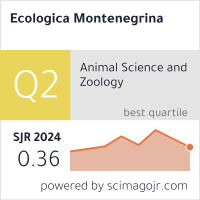 Announcements
Change in the journal policy

Since January 2018, there has been a change in the journal policy dealing with the Author Fees. Please consider this change before submitting a manuscript.

Posted: 2018-01-07
More...
Vol 19 (2018)
Table of Contents
Articles
| | | |
| --- | --- | --- |
| | Oleg V. Kukushkin, Igor V. Dovgal | 1-21 |
| | | |
| --- | --- | --- |
| | Dilian Georgiev, Peter Glöer | 22-25 |
| | | |
| --- | --- | --- |
| | Natalya Chelyadina, Natalya Pospelova, Mark Popov, Ludmila Smyrnova, Irina Kharchuk, Vitaliy Ryabushko | 26-31 |
Correspodence
CORRECTION OF THE TYPE LOCALITY OF GYLIPPUS RICKMERSI KRAEPELIN, 1899 (SOLPUGIDA: GYLIPPIDAE)

Rolando Teruel

50-52
Corrigendum
| | | |
| --- | --- | --- |
| | Corrigenda: A new species of Grossuana Radoman, 1973 (Caenogastropoda: Truncatelloidea) from Corfu Island (Greece) | 32 |